Just in time for our 4 year anniversary, our team is growing. We are so proud and happy to announce the new members of our team! Please welcome them and show them some love! If you want to learn more about the team visit our "Who We Are" page.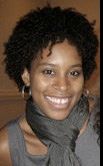 Jessica Marie Johnson is a 2012-2013 Africana Research Center and Richards Civil War Era Center Post-Doctoral Fellow at the Pennsylvania State University. Johnson holds a Ph.D. and M.A. in historyfrom the University of Maryland, College Park, and a B.A. in African & African American Studiesfrom Washington University in St. Louis where she was also a Mellon-Mays Undergraduate Fellow.  Between 2009 and 2011, she was a Consortium for Faculty Diversity Fellow in the Africana Studies Program at Bowdoin College.
As a digital humanist, Johnson is interested in digital media and publishing, online archives and exhibits; and the use of social media to disseminate and create historical narratives, in particular, comparative histories of slavery and people of African descent. For more information on her or to explore her work, visit Diaspora Hypertext, the Blog, the Diaspora Hypertext Tumblr, or her main site here.
Daniel is a AfroLatino Dominican genderqueer community college student. Daniel is a documentary filmmaker whose first film was created in their 2nd year of high school. The documentaries revolve around teenage homelessness, the history of the word "ghetto," and the experiences of undocumented students in the US. 
Daniel's films have been accepted into the youth section of the Tribeca Film Festival in NYC.  Daniel is on tumblr @DreamingInSpanish where he responds to various issues of what is occurring in the community. Preferred gender pronouns for Daniel at this time are he/his/him.